Locations in Nuremberg
Looking for the right space for a convention, conference, or seminar? Need the right setting for a corporate event? Nuremberg has a wealth of unique event locations, and offers many different ways to arrange a custom-tailored concept for your event space - wheter your event takes place on-site, digitally or both. We'll be delighted to help you find the right event location.
---
Streaming studios for your digital or hybrid event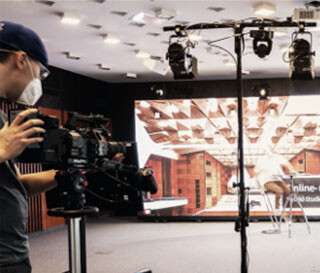 © Billmann Event GmbH, Meistersingerhalle / Stadt Nürnberg
Meistersingerhalle: Hybrid studio
Working with its cooperating partner Billmann Event GmbH, the Meistersingerhalle offers a wide range of options for virtual and hybrid event formats. Its streaming studio, permanently available, can handle all aspirations, from cost-effective to innovative.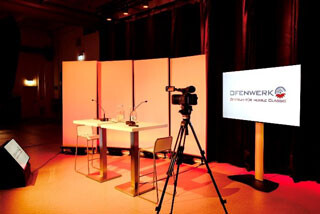 © OFENWERK Betriebs-GbR
OFENWERK: A streaming studio
Whether for live, online or hybrid events, OFENWERK's professionally equipped streaming studio can handle any format. Three studio settings are on offer: The Lounge, with a sitting room atmosphere, The Talk, and The Stage.
Fotos: Nürnberg, Leonardo Royal Hotel, Lobby, Bar | Nuremberg, Leonardo Royal Hotel, Lobby, Bar © Thomas Linkel Fotodesign, Eventlocation © Thomas Riese, Nürnberg DJI © Kristof Göttling, © Billmann Event GmbH, Meistersingerhalle / Stadt Nürnberg, © OFENWERK Betriebs-GbR