Digital Services and Events
Looking for something special for your digital event? Then you've found the right website. From fully equipped streaming studios, to epicurean boxed meals, to an accompanying online programme – this is where you can find the right components to make your event one to remember.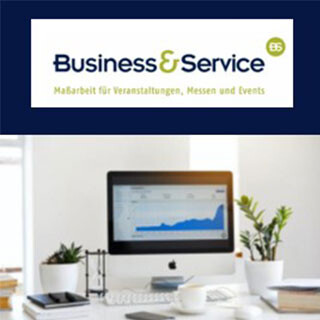 © Business & Service
Business & Service: Event service
To make your event a success, you need the right organisation and coordination. With years of experience in event management, Business & Service will support you in organising individual aspects or your entire event.
---
© Proxima Studio - stock.adobe.com
CityHunters: The Remote Team Quiz
CityHunters' Remote Team Quiz brings varied riddle and puzzle fun straight to your home office.
Players join the game by video conferencing. Organised into teams, they complete entertaining multiple-choice, creative, or photographic tasks. The team with the most points wins!
---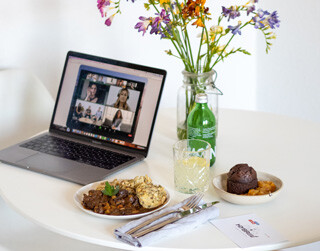 © www.genussgeschichten.com
El Paradiso: HYBReat deliverable boxed meals
Whether they're working at home or attending a digital event, El Paradiso provides a special culinary experience to ensure happy employees and attendees. Its deliverable boxed meals can be booked in a variety of combinations and delivered anywhere in Germany.
---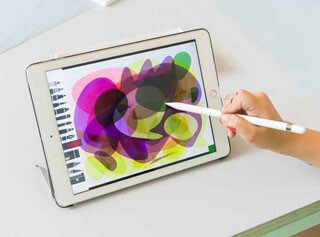 © Kunst- und Kulturpädagogisches Zentrum der Museen in Nürnberg
KPZ: Online museum discussions
Why not provide a special cultural highlight for your remote attendees? KPZ offers individually booked online museum discussions with live moderators. Presenters show and explain images and videos for some of the finest works and special exhibitions from Nuremberg museums. All of it live, and always with dialogue.
---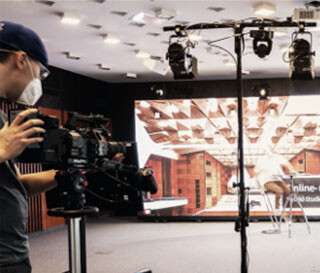 © Billmann Event GmbH, Meistersingerhalle / Stadt Nürnberg
Meistersingerhalle: Hybrid studio
Working with its cooperating partner Billmann Event GmbH, the Meistersingerhalle offers a wide range of options for virtual and hybrid event formats. Its streaming studio, permanently available, can handle all aspirations, from cost-effective to innovative.
---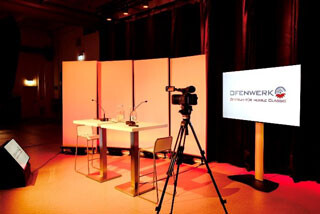 © OFENWERK Betriebs-GbR
OFENWERK: A streaming studio
Whether for live, online or hybrid events, OFENWERK's professionally equipped streaming studio can handle any format. Three studio settings are on offer: The Lounge, with a sitting room atmosphere, The Talk, and The Stage.
---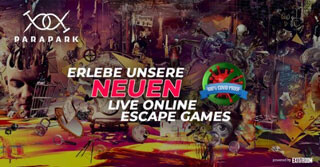 © MaKi Escape GmbH
ParaPark: LIVE ONLINE ESCAPE GAMES
Team-building on the Web. ParaPark and its LIVE ONLINE ESCAPE GAMES ensure fun at your event. All participants join the selected thematic rooms by videoconferencing. Here each player guides an avatar through the game in real time. The object is to solve all the riddles before the clock runs out.
---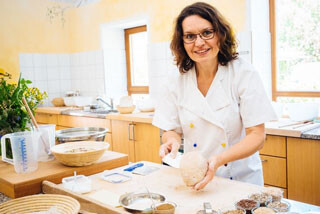 © Kernmühle Horneber Gbr
Seminarhaus Kernmühle: A live bread-baking course online
Perfect for digital events is the online active bread baking course with Jutta Horneber. For all interested bread bakers who cannot come to the Kernmühle, the course offers the ideal opportunity to learn how to bake bread in your own kitchen. Using a zoom meeting, the experienced baker shows step by step how good and delicious breads can also be made at home. She also shares valuable tips on the subject of bread.
---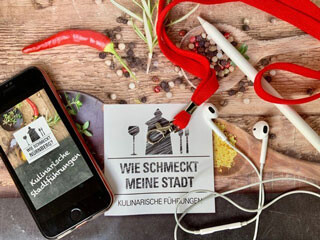 © Wie schmeckt meine Stadt GbR
Wie schmeckt meine Stadt (The taste of my city): Digital city tours
Nuremberg offers a wealth of history, culinary specialties, culture, and lifestyle options. And you can also explore and experience them from home, in an online tour or a customised online talk. If you like, the digital tour of town can be spiced up with culinary delights.
Fotos: © Business & Service, © Proxima Studio - stock.adobe.com, © www.genussgeschichten.com, © Kunst- und Kulturpädagogisches Zentrum der Museen in Nürnberg, © Billmann Event GmbH, Meistersingerhalle / Stadt Nürnberg, © OFENWERK Betriebs-GbR, © MaKi Escape GmbH, © Kernmühle Horneber Gbr, © Wie schmeckt meine Stadt GbR